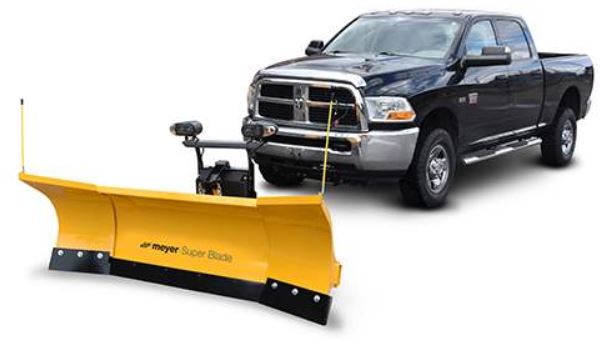 Meyer
Meyer 53300 Super Blade 8'-10' Snow Plow Assembly
Please
contact us
if you are interested in this product.
---
Our product experts can help you find the best plow for your vehicle! Email us: parts@comtruck.ca
 

or call

 

1-800-665-6126 today.

The all new commercial-grade Meyer® Super Blade is bigger and stronger than any other automatically adjustable plow on the market. At the press of a button, it expands from 8' to 10.5' or anywhere in between. And the flared wings extend as a pair or independently. Super Blade features Nite Saber® LED lights, Hands-Free Plowing (HFP), industry leading ground clearance, and much more. Your plowing capabilities are now limitless.

The Meyer Super Blade is the largest and strongest automatically adjustable plow of its kind on the market. It features a full-trip moldboard, industry leading ground clearance, Nite Saber LED lights, a 32" high moldboard, 36" high outer adjustable flared wings and heavy-duty rams so you can take on the toughest plowing jobs.
Type: Full-Trip

Vehicle: 3/4-ton pickups and larger

Construction: Tubular steel A-frame
Blade Model #:

Super Blade 8'-10'

Blade Type:

Full-Trip

Moldboard Length:

10'

Moldboard Height:

32"-34"

Moldboard Gauge:

12

Vertical Ribs:

9

Plow Trip Springs:

6

Cutting Edge:

1/2" x 6"

Avg Width at Full Angle:

8'-10'9"

Angling Rams:

2" x 10"

Weight Complete:

1175 lbs
---
Share this Product
---
Related Products